posted on
June 27, 2016
by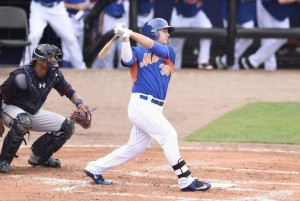 Michael Conforto has been nothing short of a revelation for the Mets as a terrific hitting outfielder. He skyrocketed through the minors in 2015 and became a major part of the late surging Mets, joining the starting lineup through the playoffs.
In 2016 Met fans had sky-high expectations and through March and April, Conforto delivered. Through his first 21 games he'd managed a line of .365/.442/.676 and drove in 18 runs. He also had a .411 BAbip but fans saw only bright days to come in his future. From May on, things have not been bright. That 1.118 OPS of March and April was a mere .591 in May and .419 in June.
What went wrong?
His BAbip took a nose-dive but, more importantly, Conforto lost his confidence. Watching him at the plate through the months of May and June he no longer looked like the confident kid Met fans had been used to seeing since his original promotion. As Keith Hernandez says, "Once your confidence goes, everything goes." He swung at bad pitches, watching his strikeouts rise and walks diminish.
So what now?
Now, Conforto will go to AAA Las Vegas and hopefully remember what it is to step into a batter's box like you own the place. He certainly has the talent, we've seen that, he just needs to actualize on it and have some faith in his own abilities. The good news is that Las Vegas and the PCL, having inflated stats, should do just that.
What about the other guy?
Who? Jose Reyes? Yes, he's back in the minors too but it's a different scenario. Reyes is mostly proving to Sandy Alderson and Terry Collins that he's in baseball shape. He'll not be spending too long in the minors but you can bet that I'll be paying close attention.
AAA: Las Vegas
Brandon Nimmo promoted – I don't anticipate him to hit the ground running but he deserved a first taste of the big leagues. I expect him to be switching back with Conforto in a few weeks.
Gavin Cecchini looking very put-together – He's hitting consistently and he's getting on base all the time.
Kevin Plawecki making the most of it – He's there to play full-time and he looks very good so far. Outside of Zack Wheeler, Plawecki is likely the Mets biggest trade chip right now.
AA: Binghamton
Amed Rosario starts strong – Rosario is proving that the promotion was a long time overdue by making a big impact in his first games at AA.
Dominic Smith's new friend – Since Rosario has joined him, Smith is 4 for 11 with 2 home runs.
A+: Port St. Lucie Mets
Somebody save Wuilmer Becerra – After becoming hotter than the deserts of Tatooine he's become colder than the planet Hoth.
Andrew Church is a prospect again – After doing little to follow up his high draft pick Church is finally beginning to make Alderson look less foolish.
A-: Brooklyn Cyclones
Blake Tiberi has a solid debut – He's a nice hitter for a team that selected him as late as the Mets did.
Nick Sergakis looks better than 23rd round – He's off to a very good start but has a very limited ceiling.
Jay Jabs hitting well – It's all early but Jabs (who has my favorite name to say of the Met draftees) is doing very well.
Merandy Gonzalez might be a big deal – He's looking like he might be an "Ace" caliber prospect after his first two starts.
Nabil Crismatt arrives – His first outing, in relief was poor but he followed it up with a splendid 3 inning outing that should make everyone a little happier.
R1: Kingsport Mets
Thomas Szapucki looks really good – He pitched one heck of a first game for Kingsport. Only giving up 2 hits over 6 innings and striking out 13 batters.