This is the fifth entry in our prospect series, where we're counting down the top 50 prospects for the Mets. Four people were involved in this project and what you see is a group consensus, not the results of one person. You can view 50-47, 46-43, 42-39 & 38-35 if you have not already seen it. Here are the next four: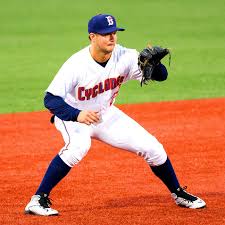 34. David Thompson – The Mets 4th round draft pick in the 2015 draft.  He has had his share of injury problems in college although he does project to still have a good power stroke.  Scouts questioned his health and the length of his swing which, in turn, caused Thompson to fall to the fourth round of the draft.  He spent 2015 playing for the Brooklyn Cyclones, who were pretty terrible on offense.  His line, .218/.268/.320, doesn't impress anyone.  The hope is that he can start to turn those numbers around in 2016.
33. Jeff Diehl – The Mets drafted Diehl in the 23rd round of the 2011 draft.  He was scouted as a large-bodied catcher with good bat speed and power but one who needed to completely re-work their swing.  Perhaps his swing is the reason that he's taken so long to reach full-season baseball, but his results in 2015 were more than decent.  Repeating a year in Brooklyn, he managed a .289/.394/.450 line on a team that couldn't hit.  His 59 strikeouts in 58 games and his lackluster debut in Port St. Lucie are the obvious negatives on the year.  Moving forward, he's a player who could have finally made the strides to up his game to the next level or his 2015 could be a meaningless flash in the pan.
32. John Mora – An international prospect who succeeded in the Dominican Summer Leagues and actually transitioned well once he was promoted.  Mora's best tools are his contact and discipline.  He's generates a lot of contact and doesn't chase pitches out of the zone too frequently.  He has some speed, with 58 stolen bases in his minor league career, but he's caught stealing too often to make that matter.  A big mark against Mora had been a lack of power but 2015 may have seen his power game make some strides.  With the Savannah Sand Gnats, a team who is never known for producing much in the way of power, he managed 22 doubles, 12 triples and 5 home runs.  This revelation will see him rocketing up a few of the prospect ranking lists.
31. Kevin Canelon – Signed out of Venezuela in 2010 Canelon looks like a typical lefty starter.  He's got a fastball that tops out in the high 80s and uses a changeup as his strikeout pitch.  This is a formula that has worked for top pitchers like Tom Glavine.  Sadly, his fastball limits his projection and he will likely never project as more than a #5 pitcher.  In 2015 he pitched with the Cyclones and had a very respectable K/9 striking out 70 batters in 77.0 innings pitched.  His control is still a great tool and it should continue to see him to some success through Single A and into Advanced A.  If Canelon can improve his fastball's velocity or movement, perhaps he might progress to a higher echelon of pitching prospect.