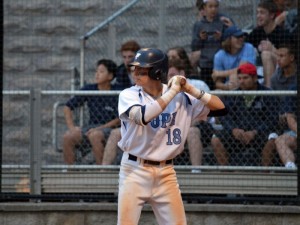 The Mets Have four selections in the top 100 of the 2016 Amateur draft. Looking around at mock draft boards, here are five players the Mets might be considering with each of those picks:
With their first overall pick in the 2016 draft, the Mets will be looking at some interesting names. Joey Wentz a high school lefty who throws 95 MPH, Joshua Lowe who is not only a great option at third but also "the best high school arm to come out of Georgia since Zack Wheeler", Jordan Sheffield who throws 98 MPH and has three "Plus" offerings, Zack Collins a hit-first catcher with solid 20 home run power and Buddy Reed who is one of the most athletic and best all around outfielders in this years draft.
While they'd all be great assets to the Mets, two names stand out. Lowe and Sheffield are both extremely interesting players. Lowe is not only a capable left-hand hitting third baseman, but he can run and, as I've mentioned, pitch. At 18, he'd probably have a longer road to the big-leagues but, that might be well worth it. Meanwhile a pitcher who can notch 98 MPH on a radar gun with a slider and a circle change might be too good to pass up. It should be noted that at 6'0" Sheffield is considered a bit diminutive for the mound which could lead to injury issues.
With their next pick and because of the diminishing health of the Met captain the Mets may look heavily at third baseman (even if they've already taken Lowe) with their second pick. It's easy to see why when there are options like Nolan Jones, Will Craig, Drew Mendoza and Joe Rizzo sitting in the rankings around 31st. One other intriguing name is speedster Taylor Trammel who would instantly become the best base stealer in the Met system.
With the draft leaning to more towards pitching talent than hitting, I'd bet the Mets look at the third basemen and of the four I listed (who are all great) I think the Mets would be happiest with Mendoza. The high school player is a left handed hitting shortstop who experts have already pegged as a major league third baseman. He's got a strong arm and big potential with his bat.
With their third pick, the Mets could look towards the high school ranks and select a player with a higher ceiling (and difficult to pronounce name) like Skylar Sznyski or Ryan Zefejahn, or they could go with steadier (easier to pronounce) collegiate players like Lucas Erceg, Dane Dunning or Alec Hansen.
If I had my pick of the five I would go with Hansen. Ranked by MLB.com at exactly 64th overall Hansen is an intriguing pitching prospect. Out of high school he was considered a top talent but teams assumed he was not signable. He boasts a 97 MPH fastball and some of the best breaking pitches in the draft. He also is known for having some of the biggest control problems. He's still well worth a gamble with the 64th pick overall.
With their final pick in the top 100 the Mets will look to get a player that someone may have passed on because they might have been too big of a risk. They might come away with a pitcher, like: Zack Linginfelter, Reggie Lawson or Braden Webb or they might go with the best bat left on the board and select a player like Nick Banks or Carlos Cortes.
Of the options I'm a big fan of Linginfelter whose big frame and velocity give him the best odds of becoming an impact starter in the majors. The high school pitcher doesn't have great breaking stuff yet but with a fastball that projects to exceed 97 MPH the Mets could do a lot worse picking at 100.
AAA: Las Vegas 51s
Ty Kelly has earned a look – He's looking like he could be a solid bench player and could supplant Eric Campbell.
T.J. Rivera is on fire – He's hitting .489 over the last 10 games with 16 RBI.
Brandon Nimmo needs to do more – A .778 OPS will play in the majors but the translation from Las Vegas to Queens won't be pretty.
Dilson Herrera stumbles – Not his best week but we can hope for better things in the near future.
Josh Edgin is biding his time – He deserves to be pitching in the majors but the Met bullpen has been outstanding so there's nowhere for him to pitch.
AA: Binghamton Mets
Dominic Smith and Binghamton Bats falling silent – Little good news to report offensively for Binghamton.
A+: Port St. Lucie Mets
Tim Peterson is still amazing – 17.1 IP with 30 Ks, 2 BBs and 7 Hits is nothing short of it.
A: Columbia Fireflies
Patrick Mazeika is back – The Met catching prospect is back on the field and began 2016 with a five game hitting streak.
P.J. Conlon has pulled away – Of the pitchers in Low-A, he's pulled ahead as the best of the bunch.